Keep Your Tires Rolling
with the Audi Pensacola Service Team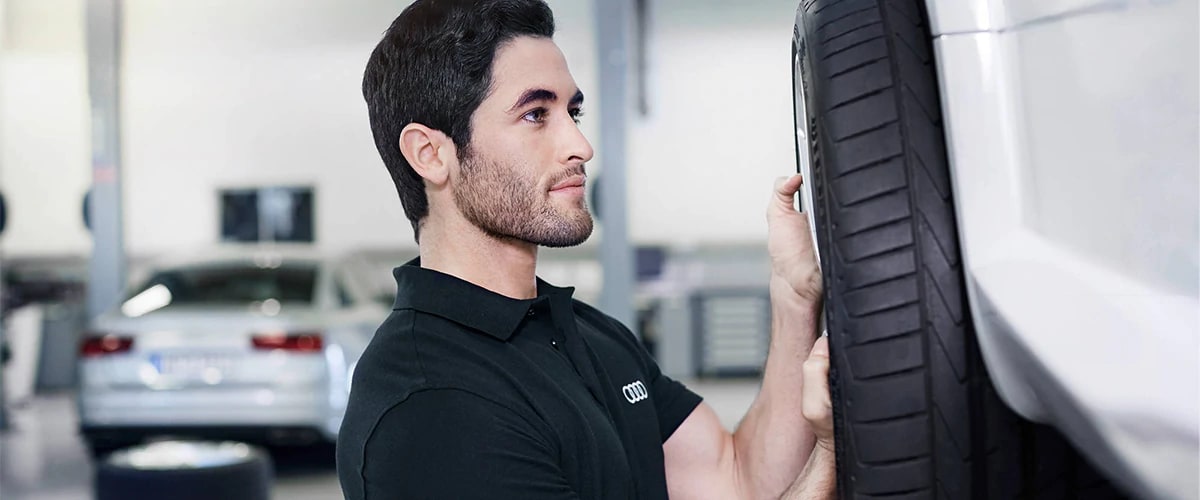 What is the Importance of Servicing Your Tires with Audi Pensacola?
Your tires work hard for you every day and over time, they will start to wear down and need upkeep and replacement. With an Audi, you want assurances that your vehicle will operate at a high-level, and the service team at Audi Pensacola is eager to help. We can ensure you get the perfect tires when you need replacement. We're also the best Audi service team around to know when your tires require service or repair. Keep your luxury performance going with Audi Pensacola!
Expert level care is hard to come by, but not when you visit the service team at our Pensacola dealership. We know what Audi tires should look like, and we provide top-level care to ensure that you get the proper tires for your specific Audi vehicle. Keeping an eye out for the signs your tires give you when they reach the end of their lifespan will ensure you know exactly when you need expert service and guarantees the best performance out of your Audi.
When and How Often Should You Get Your Tires Serviced at Audi Pensacola?
Paying attention to the signs your tires give you is the difference between a pleasant driving experience and finding yourself stuck on the side of the road with tires that provide little to no traction control. If you notice signs like low tread on your tires, an inability to properly control your vehicle in less-than-favorable conditions, or anything that compromises the safety of your Audi, you should immediately bring your vehicle in for service.
With services like tire replacement, tire rotations, and wheel alignment, we can help you avoid critical issues with your tires. For an optimal performance level, always refer to your owner's manual for a specific schedule on when to get your tires replaced. These can change based on driving conditions, weather, and traffic, so be sure to stick to a regularly planned maintenance schedule.
Hours
Monday

7:30AM - 6:00PM

Tuesday

7:30AM - 6:00PM

Wednesday

7:30AM - 6:00PM

Thursday

7:30AM - 6:00PM

Friday

7:30AM - 6:00PM

Saturday

8:00AM - 4:00PM

Sunday

Closed