Brake Service & Repairs
at Audi Pensacola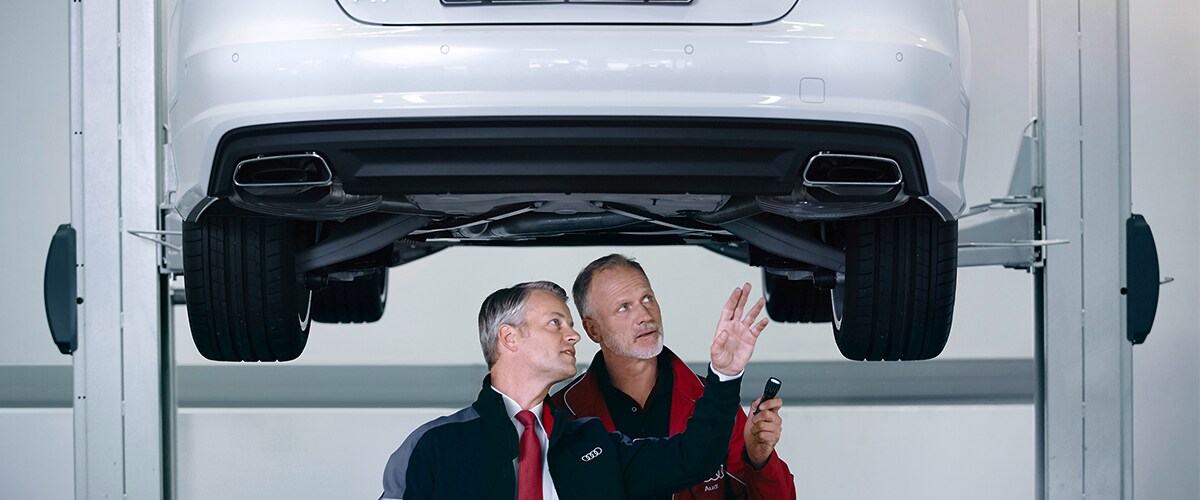 Expert Brake Service &  Repairs at Audi Pensacola
Your Audi's brakes work hard to keep you and your passengers safe, but they will start to wear down over time. This can compromise the ability to stop safely and can lead to potential accidents and costly repairs. Your brakes need a high-level of care and when you want the best care in the Pensacola, FL area, the service team at Audi Pensacola is just the team for the job! Our factory-trained technicians only use state of the art diagnostic and repair equipment to work on your Audi vehicle, and we only use genuine Audi brake pads to ensure you get the best.
When Do You Need Brake Service?
Typically, you should schedule regular maintenance for your brakes based on the guidance of your owner's manual. It specifically details when your brakes need service, so you know exactly when to make an appointment. Some signs will indicate your brakes are starting to lose their effectiveness. These signs can include:
Inability to Stop in Time when Pressing Brakes
Needing to Press Brakes Harder
Screeching or Squealing Sounds
Brake Service Light is On
You can get your vehicle serviced at any mechanic shop, but for a true luxury experience, the team at Audi Pensacola can't be beaten. Our team knows everything and anything about your Audi vehicle, and we'll ensure that your Audi runs like the day you drove it away from the dealership. Keep your brakes, and other important vehicle systems, running at peak performance and schedule an appointment with our service team today!
---
Pay attention to the signs your Audi brakes give you and when the time comes, give us a call to help repair or replace your brakes!
Hours
Monday

9 AM - 6 PM

Tuesday

9 AM - 6 PM

Wednesday

9 AM - 6 PM

Thursday

9 AM - 6 PM

Friday

9 AM - 6 PM

Saturday

9 AM - 4 PM

Sunday

Closed