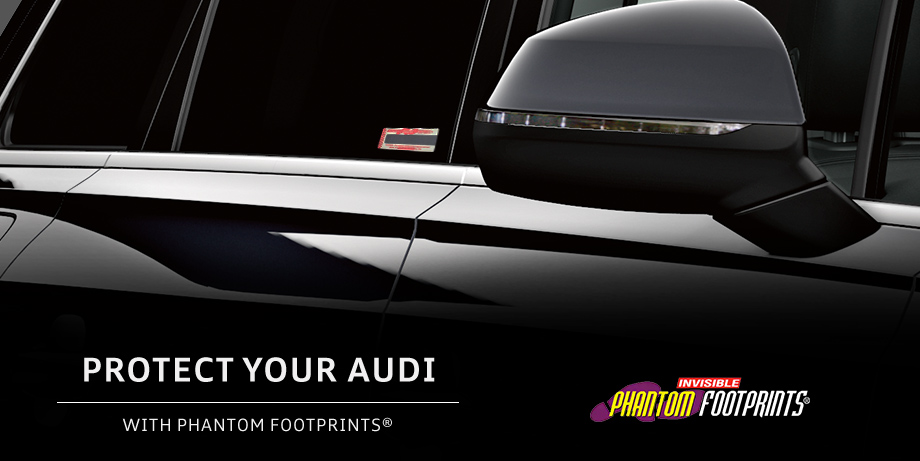 Phantom Footprints® anti-theft system is now available at Audi Pensacola.

These revolutionary, high-quality labels, designed exclusively by 3M, permanently imprint a "phantom image" of a unique ID number onto 6 different areas of your cars.

Even if the labels are removed your unique ID remains, marking your car in case it is ever stolen and increasing the chance of a faster recovery. The phantom image can only be seen under UV light.

Theft Avert Window Etching & Data Dots

Theft Avert is a unique window etch product that helps identify vehicles in the event that they are stolen.

If you choose this option you may receive thousands in benefits if your vehicle is ever stolen. You may also qualify for a comprehensive insurance discount.

The Phantom Footprints® system also includes Data Dots, a state-of-the-art identification technology that marks your vehicle with its own DNA.

Data Dots are laser-etched with a unique microscopic identification code and registered onto Data Dot USA's secure national database. Then applied to your vehicle using a heat-resistant adhesive

With the Data Dots plan, you may qualify for an insurance discount of up to $1,000. Plus, if your vehicle is stolen while you are traveling, there are also added benefits for trip interruption!

Secure Your Investment At Audi Pensacola

Schedule an appointment today to have one of these options installed on your Audi. You may also fill out the form if you have additional questions regarding this new service.

Audi Pensacola proudly serves drivers from Pensacola, Gulf Breeze, Bellview, Pace and the surrounding areas.