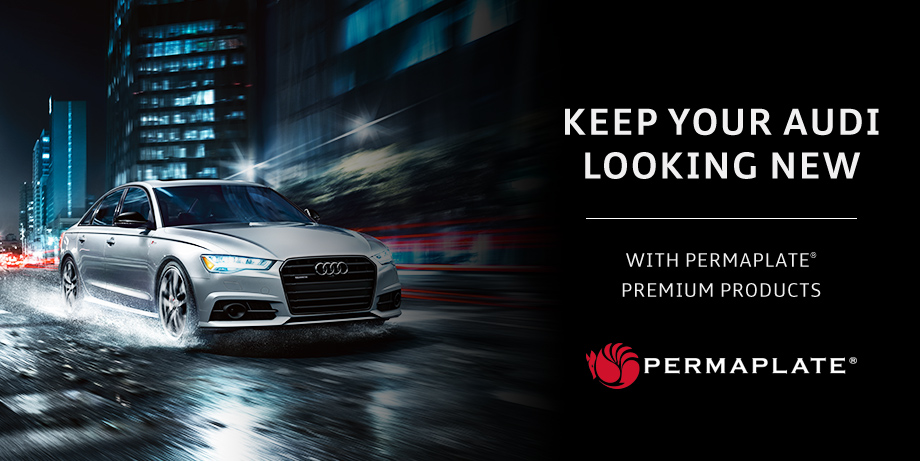 Audi Pensacola now offers a full suite of premium protection packages from PermaPlate® an industry-leader with over 35 years of experience partnering with dealerships like ours.

PermaPlate® Premium Appearance Protection

Since your Audi's appearance is an essential to maintaining its value, its important to keep it protected from scuffs, scratches, stains, spills and other everyday accidents.

Audi Pensacola now offers PermaPlate® Premium Appearance packages for every surface of your Audi, so your investment stays completely protected.
Appearance Protection Packages:
Leatherguard
Fiberguard
Paintguard
Windshield & Dent Combo

PermaPlate® Premium Windshield Protection

Protect your windshield from forces of nature and other unexpected accidents with PermaPlate® Premium Windshield Protection available now at Audi Pensacola.

This premium coverage ensures that you will never pay out of pocket for any repair or necessary replacement. There's no deductible, and it won't involve your insurance company. Learn more at Audi Pensacola.

PermaPlate® Etchguard Auto Theft Protection Coverage

PermaPlate® Etchguard is a proven theft deterrent that assists in recovery by permanently engraving a traceable security code onto components of your Audi.

This security code makes it nearly impossible for thieves to profit from the sale of a stolen vehicle or parts. A thief sees the traceable etching and moves on. As a result, etching is recommended by law enforcement and insurance agencies to prevent auto theft.

If Etchguard fails to prevent theft and aid in recovery you may receive up to $5,000 in Limited Warranty Benefits. This coverage is also transferable upon resale.

PermaPlate® Premium Paintless Dent Repair

Audi Pensacola now offers PermaPlate® Premium Paintless Dent Repair! Now you can drive with added peace of mind knowing that unsightly dents caused by shopping cars, car doors or baseballs can be fixed with minimum paintwork.

Working from behind the panel, trained technicians remove dents and dings using specially designed tools.

This process ensures that the factory finish remains intact and the vehicle remains structurally sound.
Unlimited repairs
No out-of-pocket expense
No deductible
Lifetime guarantee on repairs
Transferable coverage upon resale
Modern techniques, quick service, and a lifetime guarantee gives you the peace of mind to enjoy their vehicle dent and ding free.
PermaPlate® Premium Paint Protection Film

PremaPlate® Premium Paint Protection Film is expertly applied onto your Audi to keep your paint looking shiny and new. It also helps shield it from scratches, scuffs, fingerprints, bugs, and more.

This premium protection film is virtually invisible so it won't affect the color or luster of your car.

PermaPlate® Premium Window Tint

PermaPlate® Premium Window Tint can do a lot more than make your Audi look stylish, it can also keep your leather seats from cracking.

Installing this premium product can also prevent the inside of your car from reaching high temperatures, and other components like the dashboard and center console from fading or cracking.

Protect Your Audi With PermaPlate® Now At Audi Pensacola

Interested in one or more of PermaPlate®'s premium protection products? Visit Audi Pensacola today and let us expertly install it for you.

We proudly serve drivers from Pensacola, Gulf Breeze, Bellview, Pace and the surrounding areas.