A Buying Experience As Luxury As The Car Itself!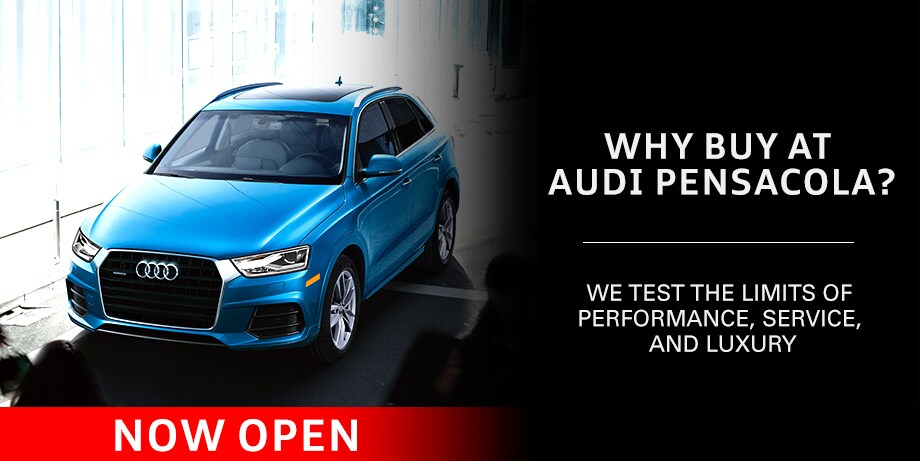 Discover The Sonic Automotive Experience
What can you expect at Audi Pensacola? Expect to enjoy luxury car shopping again.
Whether you're looking for new Audi vehicles or a pre-owned luxury vehicle at Audi Pensacola, we want you to spend less time frustrated, negotiating, and anxious and more time behind the wheel enjoying your Audi.
That's why we have Experience Guides ready to help you with personalized attention in a no-pressure, conflict-free environment. Our transparent sales and appraisal processes are also straightforward, so buying a luxury car can finally be enjoyable again.
Personalized, Transparent, Technology-Driven Process
Ready for a  new or pre-owned Audi? We're here to help! Audi Pensacola is committed to helping you find the new or pre-owned luxury performance car, SUV or crossover you've always wanted in a friendly, no-pressure environment.
Our non-commissioned Experience Guides will help you through the entire process using our tablet-enabled sales process to ensure a quicker, more accurate and transparent sales experience. Plus, every Audi we sell includes our Sonic Price®! With this real-time market value price there's no need for time-consuming back-and-forth negotiations, so you can focus on choosing the luxury vehicle you want.
Get In The Driver's Seat With Our Active Trade Appraisal
We also make selling your car easy and straightforward. With our Active Trade Appraisal YOU play an active role in the entire process.
We use proprietary technology during our collaborative process to remove any confusion and avoid uncertainty about your car's value. In short, it's all designed to be filled out with us, not by us!
Pensacola, We Salute Your Service With The Service You Deserve!
Audi Pensacola is ready to get to work for you. Now you can service and repair your luxury Audi at our new state-of-the-art service center.
Our team of Audi specialists can handle everything from routine maintenance to a full overhaul on your luxury car, crossover or SUV.
Here are other amenities you can expect:
Competitive service pricing performed with your time in mind
Comfortable, modern lounge area with complimentary WiFi beverages and snack
No Contact Home Delivery
Get Ready To Test Audi Performance At Audi Pensacola
Are you ready to test Audi performance? Visit us and experience the new approach to car buying! Our brand-new, state-of-the-art dealership will be located at 6301 Pensacola Blvd. Pensacola, FL 32505.
We look forward to serving Pensacola, Gulf Breeze, Bellview, Pace and the surrounding areas.