It all starts when we get involved in our community: through supporting and encouraging those who inspire us, by sharing what we believe in with others, and contributing to those who will make their own impressions someday.
Audi Pensacola is pleased to lend our time, attention, and support to local charitable organizations, healthy family activities, and youth sports - hoping to make an impact that will be felt today as well as tomorrow.
Audi Pensacola Makes an Impact
Audi Grassroots Community Events - At Audi Pensacola, we are focusing our efforts on getting involved with youth sports and charitable organizations that support healthy and happy youth. Establishing relationships with local youth sports organizations and youth-driven nonprofits, we are proud to support a wide variety of family-friendly programs and initiatives.
Community Youth Sports - Our "We Love Youth Sports" program supports local youth leagues and organizations including the City of Pensacola Parks & Recreation leagues - both Bill Bond baseball and soccer, the City of Gulf Breeze Sports Association, Escambia County's Perdido Bay Futbol League, and the Miracle League of Pensacola.
Audi is also pleased to support Gulf Coast Kids' House, Baptist Hospital Foundation, American Cancer Association's Relay for Life, United Way of Escambia County as a Diamond Sponsor, and the Pensacola Chamber of Commerce.
Blue Wahoo Games - On April 11, 2018, Jimmy Herlocker, the General Manager of Audi Pensacola, threw out the first pitch during the opening day game between the Chattanooga Lookouts and the Pensacola Blue Wahoos to kick off the "We Love Youth Sports" program. Through September 3rd, Audi Pensacola is inviting and hosting area kids' teams to Blue Wahoos' home games as their guests, providing up-close opportunities with the players on the field. We'll see you at the game!
Gulf Breeze Parks and Recreation - Gulf Breeze Films on the Field is a family-friendly initiative where families with children of all ages can enjoy watching blockbuster films on the field. If you've missed the first two Films on the Field in Gulf Breeze, plan to join Audi Pensacola and lots of other families on May 19 for The Lion King. You can count on seeing Audi and its staff, including Jimmy Herlocker and his own family, at a lot of gatherings where there's fun, sun and fresh air. 800 Shoreline Drive.
Gulf Coast Kids House Brunch & Bubbles Fundraiser - Audi Pensacola helped Gulf Coast Kids House raise over $125,000 for the children of Escambia County on Sunday, May 20th. That number is up by $30,000 over last year! Gulf Coast Kids House served 3,800 kids last year alone. 1 in 9 children in Escambia County is affected by child abuse every year. General Manager Jimmy Herlocker's Audi weekend, paired with a stay at Portofino Island Resort, brought in $3,000 alone for the fundraiser. This year 230 guests posed with, inspected, and bid on donated items and experiences, contributing the biggest amount yet to the Gulf Coast Kids House favorite fundraiser.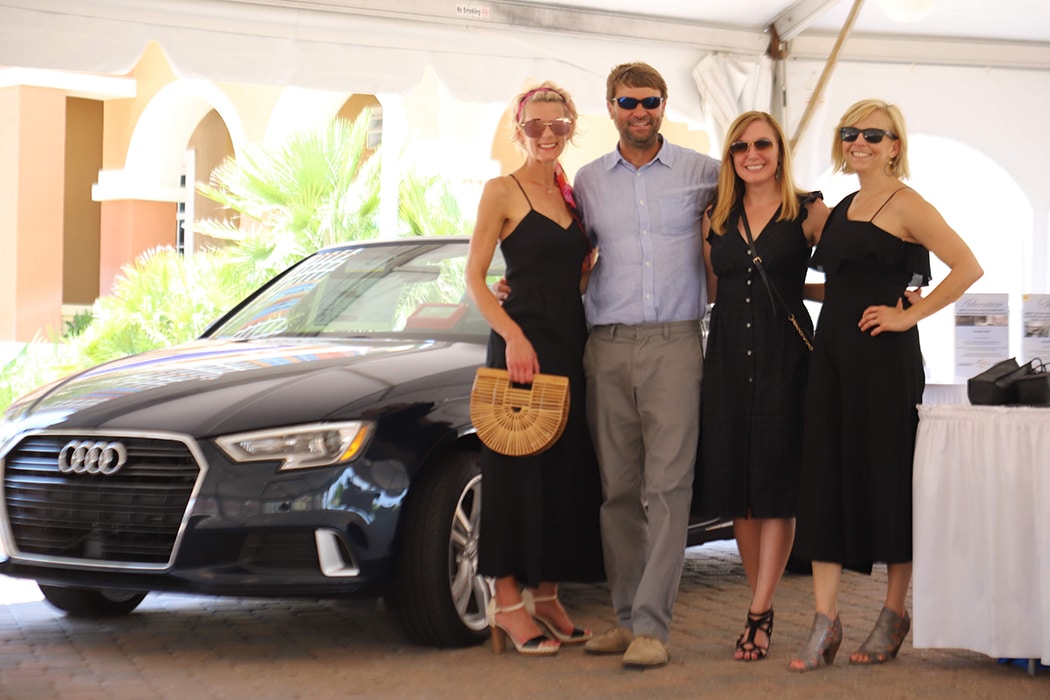 Studer Community Institute Early Learning Program - On Saturday April 21, 2018, Audi Pensacola General Manager Jimmy Herlocker was honored at the Pensacola Blue Wahoos game for his participation in the Studer Community Institute's Early Learning Program. Audi is supporting the "Make Play Smart" decals project, an initiative that weaves early learning concepts into decals that encourage children and parents to play and learn together. Check out our big, colorful hopscotch decals at Roger Scott Athletic Complex near the central concession stand.
Blues on the Bay Concert Series - When youth sports slow in hot summer months, Audi will pick up with the family-friendly Blues on the Bay concert series that runs at the Hunter Amphitheater in Maritime Park, put on by Pensacola Parks & Recreation from May through October.
May 13 - Not Quite Fab | Still Standing
June 10 - Bay Bridge Band
June 24 - Paxton Norris Band | Nick and the Ovorols
July 15 - Reunion Band
August 19 - The Truth featuring Cat Rhodes / Crosstown
September 16 - The Mulligans
September 23 - The Modern Eldorados
October 21 - Love Gun
   
At Audi Pensacola we love getting involved in the communities where we live. We think it makes us all better. We also believe in having fun - with family-friendly outdoor activities and youth sports that foster teamwork, sportsmanship, cooperation, camaraderie and good times. Through sponsoring youth-driven sports programs and initiatives, we try to create a positive influence that will help foster those who may make their own positive influences someday.