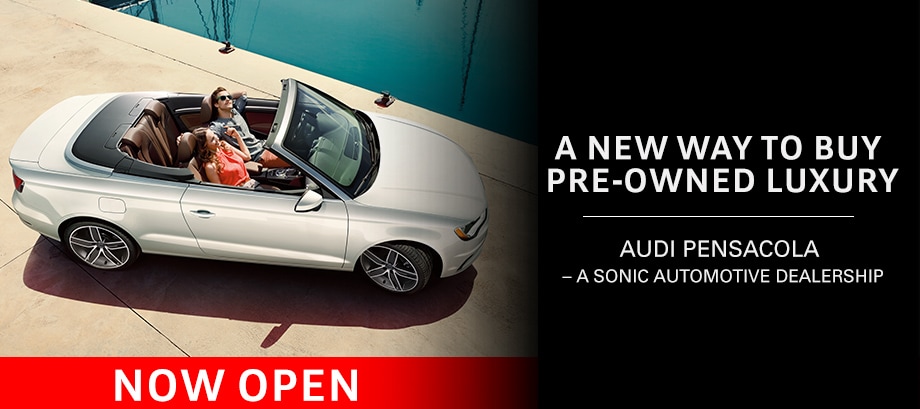 In the market for a premium pre-owned vehicle? Or how about a Certified Pre-Owned Audi?
Discover a new way to purchase pre-owned luxury at Audi Pensacola! As a Sonic Automotive Dealership, we do things differently. Gone are the days of heavy-handed sales pitches. When you visit Audi Pensacola, you won't be paired with a salesperson, just one Experience Guide who walks you through the entire process.
Buying a car has never been easier thanks to our technology-driven sales process. Ask an Experience Guide to show you our Imagine Bar, where you can browse through our entire available inventory in the comfort of our showroom. See a car you like, we'll bring it right to you!
Plus, when you buy from us, you receive:
Complimentary car washes for life
Access to our Service Loaner inventory as your vehicle is serviced
Much more!
At Audi Pensacola, we offer luxury car buying the way it should be. We serve drivers throughout the Gulf Coast.
Something For Everyone
At Audi Pensacola, we have something for everyone. From used luxury cars and SUVs to Certified Pre-owned, and a healthy selection of new Audis.
Plus, we offer the Sonic Price, which means you'll never overpay, and you'll never have to fight for a better deal ever again! We conduct extensive market research to make sure we're giving you the lowest prices around, with all rebates and discounts automatically included!
If you're planning to buy pre-owned, we have a variety of options to fit everyone, whatever your needs may be. Choose from our Audi Certified inventory, or a large selection of other quality pre-owned makes and models. You don't have to wait to get the used car-buying experience you deserve! Choose Audi Pensacola.
Our Active Trade Appraisal Process
We also make selling your car easy and straightforward. With our Active Trade Appraisal, YOU play an active role in the entire process.
We use proprietary technology during our collaborative process to remove any confusion and avoid uncertainty about your car's value. In short, it's all designed to be filled out with us, not by us!
Visit Audi Pensacola
We're very excited to serve the Pensacola community, and we can't wait to treat you to the Sonic Experience.